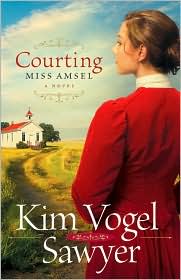 Imagine being a 28 year old young woman, living in a quaint Nebraska Village, daily dealing with a mischievous pupil, a longing heart, and a frightfully dreadful past. You know exactly how it is to be Miss Edythe Amsel. During the time of the women's suffrage movement, Edythe Amsel teaches in a one-room schoolhouse, perfectly contented on her odd way of teaching and her status as a single woman. The town council, however, is not. Through many difficulties, a victorious ending is reached, one that, in fact, is one of the better endings I have read.
I adored this book. What could be better then a classic love story between two such pure hearts? I enjoyed her (usual) calmness though she sometimes freaked out, and I myself fell in love with Joel Townsend ... I am pressed to recommend this book to anyone who likes a good read. Another of the books facets was the historical part. I adore historical fiction.I also love, love stories :) It was a beautiful cover and also, a fantastic plot. I can't remember one moment I was bored. I am now lending it to my Grandma, and I am sure she will like it as well :)
I give this book 6 out of 5 stars :)
P.S. Bethany house publishers gave me this book for free to provide an honest, fantabulous review on, be it good or bad.