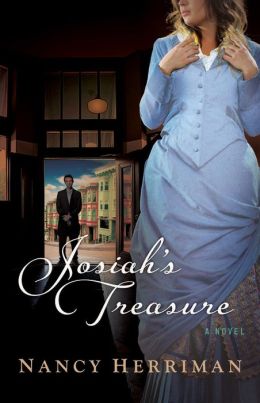 In 1882, respectable employment is nearly impossible to find if you are a single young woman. So is the reason Sarah Whittier has decided to open an art studio run entirely by single women, and she will stop at nothing to make sure "her girls" are taken care of. She is elated to finally have secured a location for the building, using her late father-figure's house as collateral for the loan. Unfortunately, as soon as she has a victory, a challenge comes in the form of a inheritance seeking heir, Daniel Cady. Will she be able to keep her beloved studio from Daniel, or even more importantly, her heart?
I LOVED this book. So very much. The author did a wonderful job of making the characters realistic, as well as making the descriptions vivid. I was enthralled with the story from the first page, and I never lost interest. In addition, one of my favorite things for an author to do is to make the resolution slightly longer than a book's resolution typically is. I love seeing the beginning of the next chapter (pun intended) of the character's life. I enjoyed that the hero and heroine of the story were not perfect, as most authors today forget to put flaws in the lead roles. I can't think of any critique for this book, except that I wish that there was a sequel right now! Overall, I would recommend this book to anyone who enjoys a suspenseful, slightly romantic, and wonderful read.
This eBook was given to me by the publisher in exchange for an honest review.