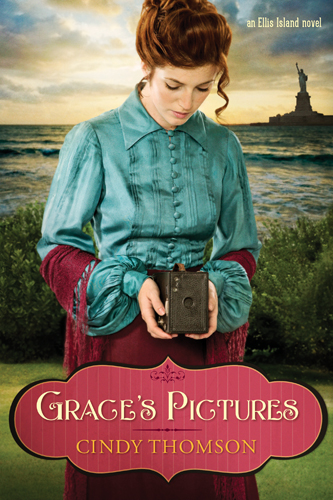 Grace McCaffery does not know where she stands. Rejected as a child by all but her mother, she feels lost and alone when she arrives on American soil. Immediately receiving a job as a nanny, she begins to feel slightly more independent, although extremely untrusting of anyone. When she sees an ad for a one-dollar brownie camera, she buys it, excited to capture the faces of the many people who live in New York City. Little does she know that there are many people who do not want their picture taken, especially a notorious gangster. When she takes one picture too many, will she be able to trust anyone to save her?
I LOVED this book. Starting with the cover. One of the most beautiful and fantastic book covers that I have seen in a while. It perfectly describes the book's plot. Secondly, I really enjoyed the way Cindy Thomson developed the characters. She made them very believable, and relatable as well.
This book was a great balance of suspense, mystery, romance, and historical fact. I have always loved reading book around this era and setting. If I had to pick something I disliked, it would probably be that the book resolved too quickly. Of course, I would be perfectly fine reading books until all the characters had great grandchildren. Honestly.
Overall, I would recommend this book to anyone who enjoys an insightful, unique, and suspenseful read.
This book was given to me by the publisher in exchange for this review.
Want to get to know Cindy Thompson better?
Q&A with Cindy
Cindy's Blog
The first chapter of Grace's Pictures